It's becoming increasingly common for fairly technical terms to be used in mainstream soccer coverage. Words and phrases that used to be reserved almost exclusively for tactics gurus and analysts are now part of casual conversations about the sport. One example of this is the rise of the double pivot, a now commonly used description for an important tactical foundation of the modern game.
But what exactly is a double pivot, and what impact does it have on how a team plays? In this article, we'll be exploring the origins of the double pivot, what this key soccer position looks like in practice, and how important it is to world soccer in the modern-day. But let's start with the basics — what does this term mean?
What Is A Double Pivot?
A double pivot is a central midfield pairing with an emphasis on defensive play and building possession. This center midfield duo tends to be slightly withdrawn, positioned in front of the central defenders, inside the full-backs or wing-backs, and behind the rest of the midfield. Their role is multi-faceted, but it essentially boils down to two core things: providing defensive cover for the players behind them, and looking to get possession of the ball and progress it forwards. They tend not to be box-to-box midfielders.
Double pivots are found within a number of different formations. It's possible to play with 3 central defenders and have a double pivot in front (for instance, with the 3-5-2 formation). Perhaps even more common is the 4-2-3-1 formation, which represents a more classic example of two central defensive midfielders (CDMs) sitting in front of the back four at the base of midfield.
This particular shape became hugely popular during the rise of Vincent Del Bosque's Spain team in the late 2000s and early 2010s. While this period was probably the high point of the 4-2-3-1 system, the double pivot remains strong today, its flexibility allowing it to be used in a wide variety of different formations.
We'll explore what impact this tactical innovation has on a team's style of play shortly. But first, let's step back in time and look at the history of the double pivot.
The Origins Of The Double Pivot
Legendary English manager Herbert Chapman played a huge role in the development of association football (or soccer) by introducing the world to the W-M formation (so-called for the shape it made when jotted down on a team sheet) in the 1920s. This system made use of 3 full-backs (the deepest-lying players), with 2 half-backs in front.
These 'half-backs' were the equivalent of modern-day CDMs, meaning they're the earliest example of the double pivot being used. In the century since this innovation, however, the role of the two defensive midfielders in a double pivot has changed massively.
The 1980s Brazil side starring the likes of Zico and Socrates helped to evolve the role of the double pivot. A strong central midfield partnership of Falcao and Cerezo allowed the attacking players in front of them to flourish, providing the foundations for the modern CDM duo, which is tasked with protecting the center-backs behind them, controlling and passing the ball, and creating opportunities for more advanced players.
As time has gone on, many teams have transitioned into using a single central defensive midfielder, sitting deep and focusing even more resolutely on performing defensive tasks. In modern football, a good example of this type of single pivot would be Liverpool's Fabinho, one of the best CDMs in the Premier League. However, many teams still prefer to have 2 defensive midfielders, due to the solidity and protection they offer.
The Role Of The Double Pivot
We've already hinted at the main point of playing with a double pivot — defensive cover. Playing with just one central defensive midfielder can lead to them getting overrun and isolated, particularly against teams that are good in possession and like to progress the ball through the midfield.
Operating with a double pivot is a simple way to ensure that your defensive line is given lots of cover in front. These 2 CDMs can screen the backline, working together to closely track opposition threats, cover space using zonal marking, and block out passing lanes to reduce the chance of the defense being penetrated.
But the out-of-possession responsibilities of the double pivot don't just amount to tracking opposition and covering space. They also have to win the ball. Whether it's battling for headers, making firm tackles, or winning 1st and 2nd balls, it's crucial that the two players in a double pivot are capable of winning possession in a number of different situations. And once they do, being able to keep possession is equally important.
Both players must have good close control and a wide passing range — these skills will help them create chances as well as offering defensive support. When a CDM wins the ball from the opposition, they're likely to be pressed hard and fast, so they need to be able to complete short, accurate passes under pressure, keeping the ball and moving it out of dangerous areas.
A key skill in these zones is the ability to shield and protect the ball, thereby reducing the chances of an opposition player being able to tackle you in front of your own box.
This might sound complex — but unfortunately, that's not all! Another vital aspect of the role is organization and communication. Given that this is a midfield duo that relies on effective collaboration between two partners, it's massively important that these players have a constant awareness of their surroundings and are able to give and take regular instructions throughout the 90 minutes of a match.
This includes having a level of positional adaptation; for example, there will be moments in games when one of the two CDMs will push on forwards to aid their team's press or provide support in attack. One element of the double pivot role is communicating to ensure that a good level of defensive cover is provided even during these occasions.
The Best Double Pivot Partnerships In World Football
Don't worry if that seems like a lot of information. The double pivot position may seem fairly simplistic at first, but there are actually lots of different things that these 2 players have to get spot on. That's why it's so impressive when you come across a professional pairing who have managed to perfect this soccer partnership.
Next, we'll take you through some of the best double pivot partnerships in the world right now, in order to give you a better idea of who has mastered the art of defensive midfield play.
N'golo Kante and Jorginho, Chelsea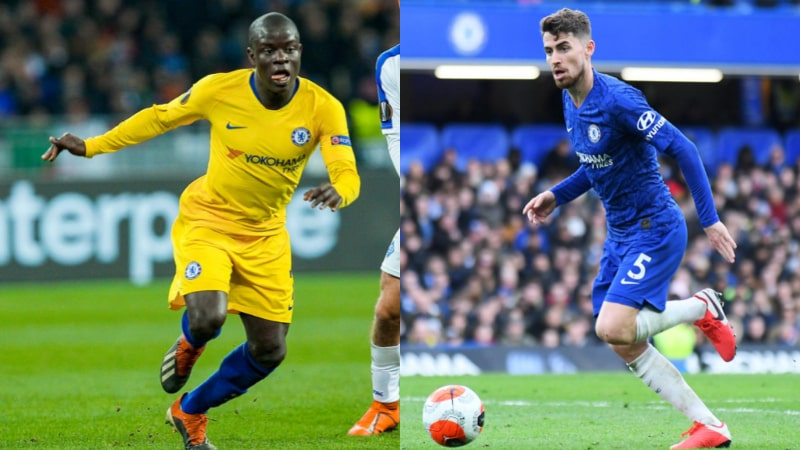 Mateo Kovacic may feel a little hard done by here, because Thomas Tuchel tends to rotate his midfield double pivot between 3 players; Kante, Jorginho, and Kovacic. With 3 central defenders in behind them, Tuchel's midfield duo at Chelsea has some degree of defensive responsibility taken off them, and their focus remains largely on dominating possession and linking defense and attack.
Kante and Jorginho are a great example of a double pivot due to their varying skillsets; the former is incredible when it comes to pressing opposition players, making tackles and interceptions, and driving up the pitch, while Jorginho is a more obviously creative, possession-based player, with a greater passing range.
This balance has allowed them to become one of the best double pivots in the Premier League.
Joshua Kimmich and Leon Goretska, Bayern Munich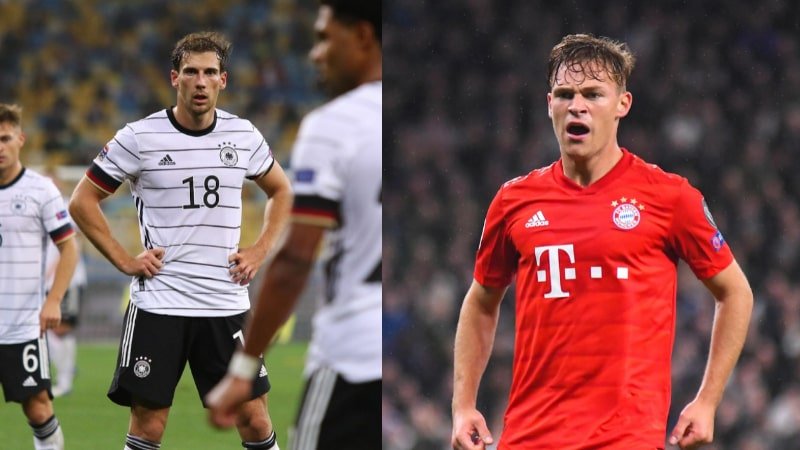 Bayern Munich have built their decade-long dominance of German football on a well-drilled 4-2-3-1 system in which Germany international Kimmich and Goretska operate as a protective pivot. Currently, they're led by Julian Naglesmann, but these two also operated excellently under the stewardship of Hansi Flick.
They're great in possession, and positionally versatile, with both players having occupied other roles across the pitch at different points in their careers.
Declan Rice and Kalvin Phillips, England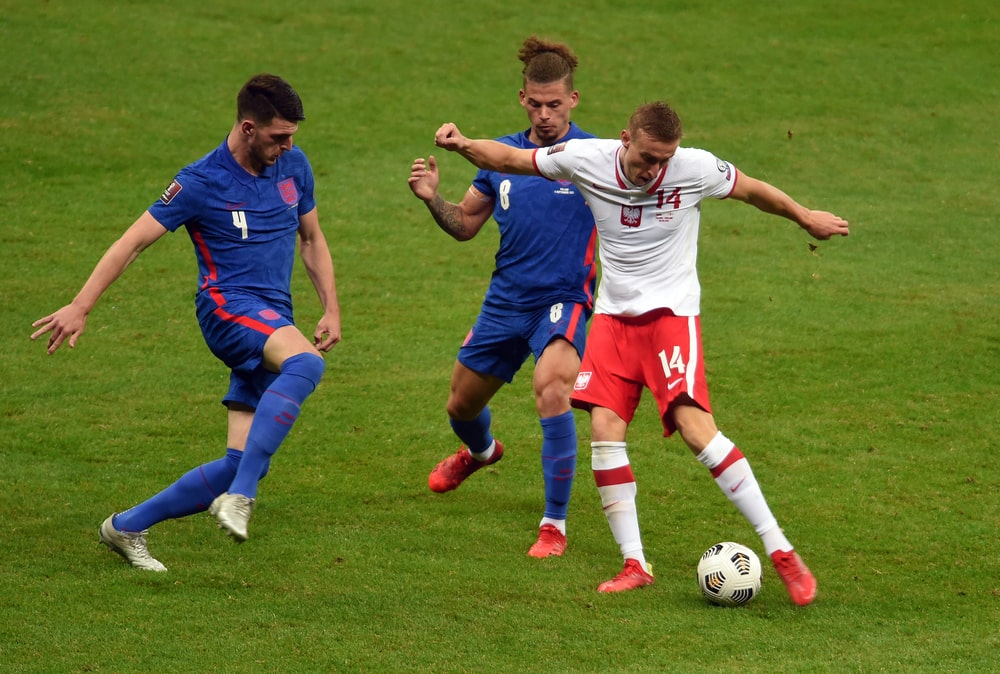 Gareth Southgate's England made it to the final of the delayed Euro 2020 tournament using a double pivot system that paired together young midfielders Declan Rice and Kalvin Phillips.
Although neither had much prior international experience, their mixture of defensive stability, aerial ability, and passing skill allowed them to protect England's defensive line admirably, with just 2 goals conceded during the whole tournament.
It's likely this duo will return at the 2022 World Cup.
Paul Pogba and N'golo Kante, France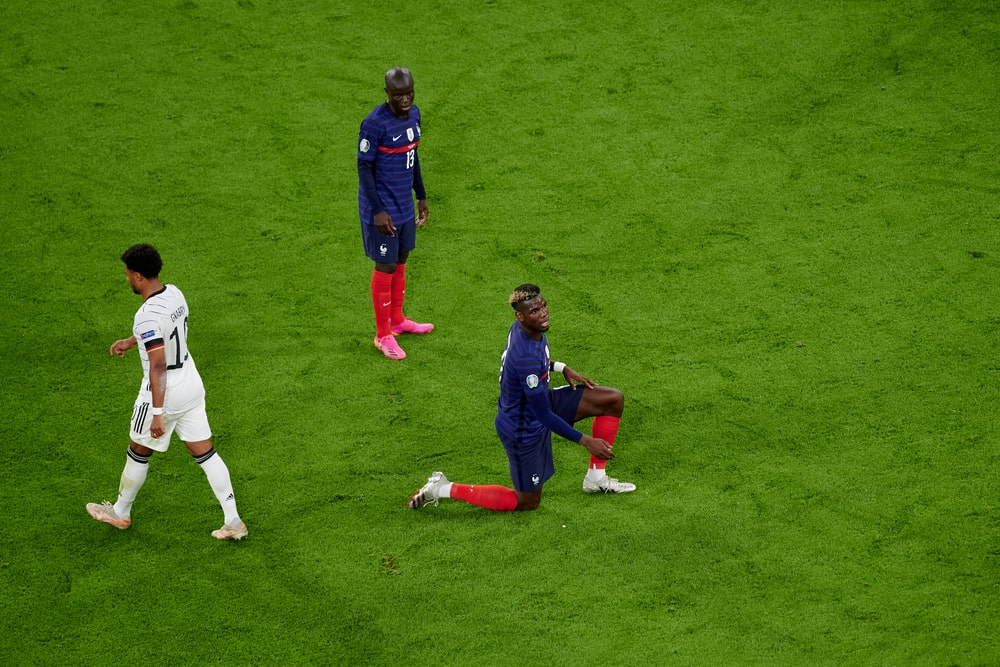 Another favorite for this year's World Cup is Didier Deschamps' France team, and you won't be surprised to learn that the highly combative and technically gifted CDM N'golo Kante will be key to their efforts.
Alongside Paul Pogba, he helped lead Les Blues to World Cup triumph in 2018, and these two players will be hoping to do the same this year.
The Impact Of The Double Pivot
It's true that most of the world's best teams right now aren't using a double pivot system. Both Jurgen Klopp's Liverpool and Pep Guardiola's Manchester City play with a 4-3-3 formation, using one deeper-lying CDM as opposed to two.
But the success of teams such as Tuchel's Chelsea and Nagelsmann's Bayern Munich, as well as legendary older double pivots like Rafa Benitez' Liverpool pairing of Xabi Alonso and Javier Mascherano, shows how effective this strategy can be.
Defensively, the double pivot provides huge advantages; however, it also gives freedom to players in less deep midfield positions, like the number 10. For more on the intricacies and developments of coaching and tactics within soccer, check out our article on 9 of the best soccer formations explained.
Double Pivot FAQ:
What is the double 6 position in football?
While it's common for center-backs to wear the number 6 shirt in English football, in world soccer, a No. 6 is a central defensive midfielder. The double 6 position, also known as a double pivot, utilizes two of these players.
How do you beat a double pivot?
Beating a double pivot often comes down to aggressive, targeted pressing. If your midfield and forward players are able to effectively close down the two opposition CDMs and cut out passing options, they'll be able to win the ball high up the pitch and create chances regularly.
Who is the best pivot in football?
It's hard to pin down exactly who the best double pivot is. Contenders include Chelsea's combination of N'golo Kante and Jorginho and Bayern Munich's partnership of Joshua Kimmich and Leon Goretska.
Fred Garratt-Stanley is a freelance writer and long-suffering Norwich City fan with experience reporting on football for a number of titles. He also has a background in music and culture journalism, with bylines in NME, The Quietus, Resident Advisor and more. Currently, he's working as a content writer for a variety of online health and fitness publications.