Mia Hamm is widely regarded as one of the best women's soccer players of all time, boasting an array of honors and records including being listed in 3rd place in the FIFA Female Player of the Century award.
In addition to her ability on the field, her ability to inspire and influence can also be seen through the insights she has given into her career and her approach to the game, as well as her life.
As part of our inspirational soccer quotes series, we take a look at some of the top quotes by Mia Hamm to inspire and encourage those looking to progress in Soccer, whether it be on the field or off it.
"Failure happens all the time. It happens every day in practice. What makes you better is how you react to it" - Mia Hamm
"It is not sacrifice if you love what you're doing." - Mia Hamm
"Every single day I wake up and commit myself to becoming a better player. Some days it happens, and some days it doesn't. Sure, there are games I'm going to dominate and there are going to be games when I struggle. But it doesn't mean I give up." - Mia Hamm
"Celebrate what you've accomplished, but raise the bar a little higher each time you succeed." - Mia Hamm
"Failure happens all the time. It happens every day in practice. What makes you better is how you react to it." - Mia Hamm
"The backbone of success is...hard work, determination, good planning, and perseverance." - Mia Hamm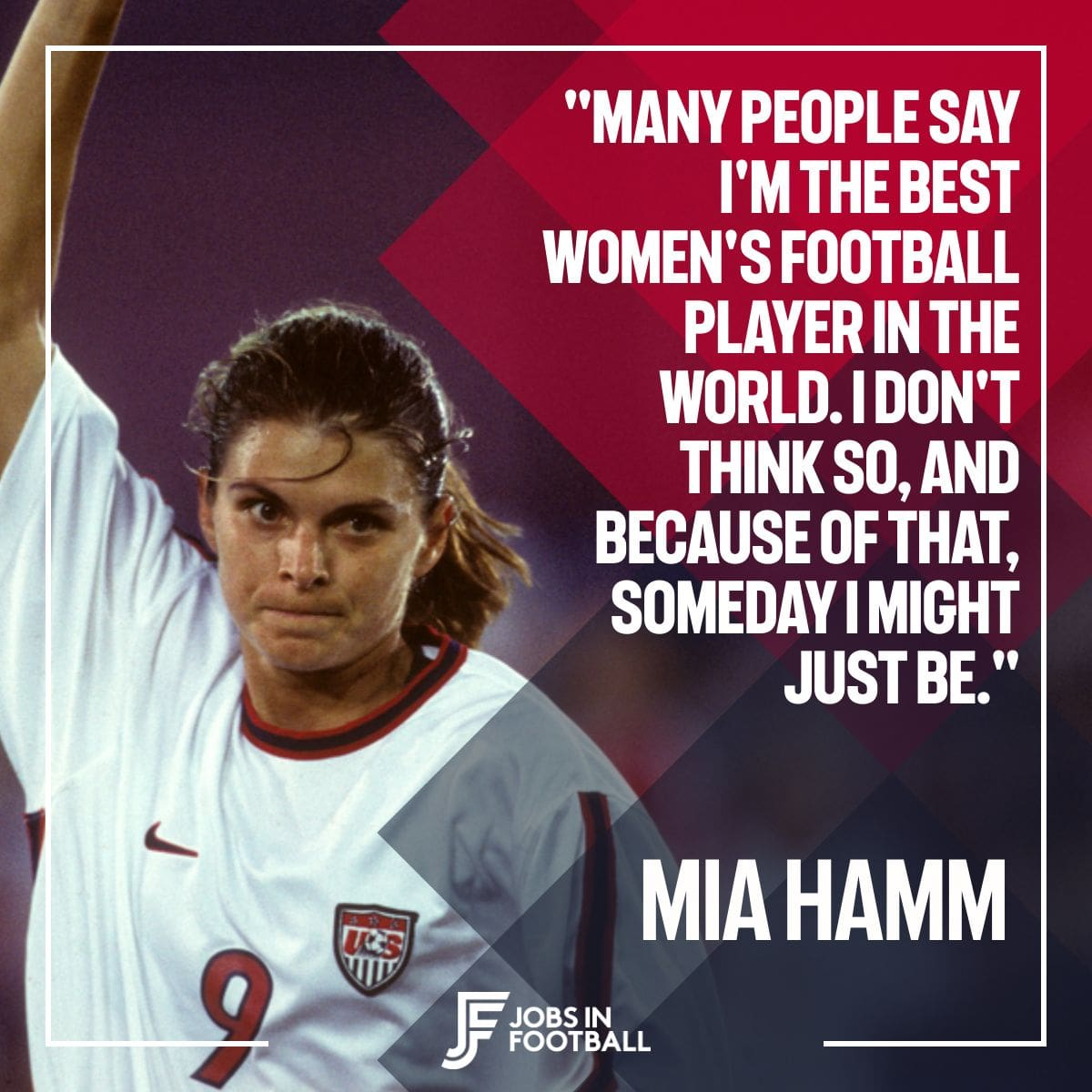 "Many people say I'm the best women's soccer player in the world. I don't think so. And because of that, someday I just might be" - Mia Hamm
"Every single day I wake up and commit to myself to becoming a better player." - Mia Hamm
"The most important attribute a player must have is mental toughness." - Mia Hamm
"I've worked too hard and too long to let anything stand in the way of my goals. I will not let my teammates down and I will not let myself down." - Mia Hamm
"Take your victories, whatever they may be, cherish them, use them, but don't settle for them" - Mia Hamm
"I learned a long time ago that there is something worse than missing the goal, and that's not pulling the trigger." - Mia Hamm
"There are always new, grander challenges to confront, and a true winner will embrace each one." - Mia Hamm
"I am a member of a team, and I rely on the team, I defer to it and sacrifice for it, because the team, not the individual, is the ultimate champion" - Mia Hamm
"The vision of a champion is bent over, drenched in sweat, at the point of exhaustion, when nobody else is looking." - Mia Hamm
"If you don't love what you do, you won't do it with much conviction or passion." - Mia Hamm
"You're worth the investment in yourself and what you feel, you can and want to be" - Mia Hamm
"I know I wouldn't be here, and all of us wouldn't be here, without certain sacrifices and certain stands that people have made -- not just women, but men stepping up and supporting what we do and how we do it." - Mia Hamm
"A winner is that person who gets up one more time than she is knocked down." - Mia Hamm
"Focus on what you know you can do. Know what you're capable of on any given day, and what you can count on. Do the simple things well, and then use the confidence to build up the rest of your game. Learn to differentiate between what is truly important and what can be dealt with at another time." - Mia Hamm